Ph.D. Student
Address:
University of Bonn
Theoretical Geodesy, IGG
Nussallee 17
53115 Bonn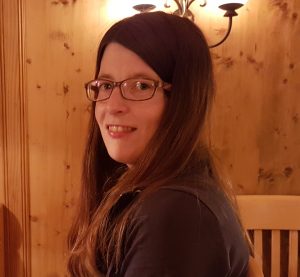 Ina Loth is in parental leave from 06/2016 until 11/2018.
Research interests
Stochastic processes
Time Series and Spectral Analysis
Decorrelation
Filter techniques
Short CV
Ina Loth started to work in the Theoretical Geodesy Group already as a student assistant in 2006. In 2009 she finalized her diploma thesis in the Theoretical Geodesy Group and received the degree Dipl.-Ing.
2009 she started to work as a PhD candidate in the Theoretical Geodesy group. Her focus is the analyis of stochastic processes and time series, furthermore the analysis of correlated observations and their decorrelation. These subjects were used in the context of the satellite mission GOCE, and the analysis of deformations in the Lower Rhine Embayment.
From 06/2016 until 11/2018 she is in parental leave.
Awards
2009 Winner of the DVW-Turbo Preis for fast and good studies
Paper and Presentations
List of Presentations
2018
W. -D. Schuh, T. Schubert, I. Loth, J. M. Brockmann, and B. Kargoll, Advanced Time Series Analysis to Estimate Tailored Stochastic Models for the Global Gravity Field Processing (Talk){Copenhagen, Denmark}: , 2018.
[BibTeX]

@misc{schuh.etal_2018,
type = {Talk},
title = {Advanced Time Series Analysis to Estimate Tailored Stochastic Models for the Global Gravity Field Processing (Talk)},
author = {Schuh, W.-D. and Schubert, T. and Loth, I. and Brockmann, J. M. and Kargoll, B.},
year = {2018},
address = {{Copenhagen, Denmark}},
howpublished = {Talk},
owner = {jmb},
file = {/home/jmb/pc/internetSettings/zotero/storage/XKAEFJTW/Schuh et al. - 2018 - Advanced time series analysis to estimate tailored.pdf}
}
2015
J. M. Brockmann, N. Zehentner, E. Höck, I. Loth, T. {Mayer-Gürr}, R. Pail, and W. -D. Schuh, "An Improved Version of the GOCE-only Model EGM_TIM_RL05," in 26\textsuperscriptth IUGG General Assembly 2015, {Prag}, 2015.
[BibTeX]

@inproceedings{brockmann-etal_v15,
title = {An Improved Version of the {{GOCE-only}} Model {{EGM}}\_{{TIM}}\_{{RL05}}},
booktitle = {26{\textsuperscript{th}} {{IUGG General Assembly}} 2015},
author = {Brockmann, J.M. and Zehentner, N. and H{\"o}ck, E. and Loth, I. and {Mayer-G{\"u}rr}, T. and Pail, R. and Schuh, W.-D.},
year = {2015},
address = {{Prag}},
owner = {swd},
annotation = {30.6.2015}
}

C. Esch, K. Gutjahr, I. Loth, and W. -D. Schuh, "Differentielle Radarinterferometrie (D-InSAR) Zur Erstellung von Deformationszeitreihen in Der Niederrheinischen Bucht," in Geodätische Woche, {Stuttgart}, 2015.
[BibTeX]

@inproceedings{esch-etal_v15,
title = {Differentielle {{Radarinterferometrie}} ({{D-InSAR}}) Zur {{Erstellung}} von {{Deformationszeitreihen}} in Der {{Niederrheinischen Bucht}}},
booktitle = {Geod\"atische {{Woche}}},
author = {Esch, C. and Gutjahr, Karlheinz and Loth, I. and Schuh, W.-D.},
year = {2015},
address = {{Stuttgart}},
owner = {swd},
annotation = {Vortrag, 15.9.2015 esch-etal\textsubscript{1}5}
}
2014
List of Posters
2015
J. M. Brockmann, E. Höck, I. Loth, T. {Mayer-Gürr}, R. Pail, W. -D. Schuh, and N. Zehentner, "GOCE Gravity Field Models Following the Time-Wise Approach," in EGU General Assembly 2015, {Wien}, 2015. doi:http://adsabs.harvard.edu/abs/2015EGUGA..1712092B
[BibTeX]

@inproceedings{brockmann-etal_p15,
title = {{{GOCE}} Gravity Field Models Following the Time-Wise Approach},
booktitle = {{{EGU General Assembly}} 2015},
author = {Brockmann, J.M. and H{\"o}ck, E. and Loth, I. and {Mayer-G{\"u}rr}, T. and Pail, R. and Schuh, W.-D. and Zehentner, N.},
year = {2015},
address = {{Wien}},
doi = {http://adsabs.harvard.edu/abs/2015EGUGA..1712092B},
owner = {swd},
annotation = {Poster, 14.4.2015}
}