Postdoctoral researcher
Contact:
Email: brockmann@geod.uni-bonn.de
Tel: +49 – 228 – 73 – 7423
Fax: +49 – 228 – 73 – 6486
Office: Nussallee 17, 2. OG, room 2.017

Address:
University of Bonn
Theoretical Geodesy, IGG
Nussallee 17
53115 Bonn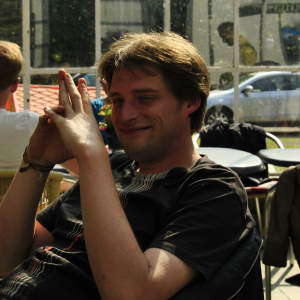 Links
Research interests
High performance computing
Computational Geodesy
Gravity field determination
Data combination
Numerical solution techniques
Joint estimation of gravity field and dynamic ocean topography
Short CV
Jan Martin Brockmann started to work in the Theoretical Geodesy Group already as a student assistant in 2007. After the finalization of the diploma degree course "Vermessungswesen" and his diploma thesis in the Theoretical Geodesy group he received the degree Dipl.-Ing in 2008.
2008 he started in the Theoretical Geodesy group as a PhD candidate and worked in the context of gravity field recovery from observations collected by the satellite mission GOCE. As a member of the EGG-C and the ESA HPF Team he was involved in the official processing of the observations and contributed significantly to the generation of the gravity field models computed with the so called time-wise approach. The computational requirements brought lead towards the field of high performance computing. He defended his PhD thesis "On High Performance Computing in Geodesy — Applications in Global Gravity Field Determination" in that context in 2014.
Since 2014 he is working as postdoctoral researcher in the group, still working in the context of high performance computing and global gravity field determination. Currently the focus is on the joint estimation and separation of gravity field and geodetic dynamic ocean topography models from altimetry observations. Here again high performance computing plays an important role.
Projects
PI

PARASURV: PArametric determination of the dynamic ocean topography from geoid, altimetric sea surface heights and SAR derived RAdial SURface Velocities (DFG, www)
Development of Continuous Spatio-Temporal Finite Element Based Models for Sea Surface Approximation (Uni Bonn, TRA Modelling)

CO-PI

MAssive Parallel Approximation of Static and Time-VariablE Reference Surfaces with C 1-smooth Finite Element Model Functions, computing time on supercomputers at FZ Jülich
Adaptive Optimization of Global Gravity field modeling and the Ocean's Dynamic Topography, computing time on supercomputers at FZ Jülich

Contributor/Member
Teaching activities
Lectures and practicals "Numerik in C++/Numerics in C++", yearly since WS2009/2010
Lectures and lab "Paralleles Wissenschaftliches Rechnen in C++", WS2013/2014-WS2015/2016
Lecture "Geodätische Optimierung – Numerische Methoden", WS2016/2017, WS2018/2019, WS2020/2021
Lecture "Geodätische Optimierung – Robuste Parameterschätzung", WS2017/2018, WS2019/2020, WS2021/2022
Lecture "Statistics and Adjustment Theory", yearly since WS2017/2018
Practicals "Geodätische Optimierung – Numerische Methoden", WS2008/2009, WS2014/2015, WS2016/2017
Practicals "Stochastische Prozesse", WS2015/2016
Masterprojekt "Space Geodesy Simulator Bonn", since 2012
Seminar "Ausgewählte Kapitel der Numerik", since WS2016/2017
Supervision of different diploma, M.Sc., B.Sc and M.Sc. thesis, since 2009

Ernst, A. "Implementierung effizienter Algorithmen zur Umordnung, Auflösung und Inversion von dünn besetzten Normalgleichungen mit geodätischen Anwendungen". Diploma Thesis, Universität Bonn, 2009.
Pappke, F. "Effiziente Approximation der Meeresoberfläche mit Finite Elementen". B.Sc. Thesis, Universität Bonn, 2009.
Knauf, C. "Robuste Berechnung der Prozessparameter eines Auto-Regressiven Prozesses". B.Sc. Thesis, Universität Bonn, 2016.
Dreier, A. "Berechnung von Gradienten-Feldern und deren Unsicherheiten aus einer vorgegebenen Oberfächenapproximation mit lokalen Basisfunktionen". B.Sc. Thesis, Universität Bonn, 2016.

Neyers, C. "Integration von Radialen SAR Doppler Ozeanoberflächengeschwindigkeitsmessungen in die Berechnung der Dynamischen Ozeantopographie." M.Sc. Thesis, Universität Bonn, 2017.

Wiesmann, L. "Flächenapproximation über Kollokation aus punktweise gemessenen Funktionswerten und Steigungen." B.Sc. Thesis, Universität Bonn, 2017.
Awards
2022 Winner of the teaching award (Lehrpreis 2022 der Landwirtschaftlichen Fakultät, Universität Bonn)
2016 Winner of the "Wissenschaftspreis Geodäsie" of the DGK (German Geodetic Comission) for outstanding achievements in the field "Computational Geodesy"
2015 Faculty Award in Geodesy for an outstanding publication during PhD studies
2011 EGU Outstanding student poster (OSP) award
2008 Winner of the DVW-Turbo Preis for fast and good studies
Further activities
Review activities for various Journals, see my Publons profile
Contributions to the projects GOCE HPF (ESA), REAL-GOCE (BMBF), GO2000 (DFG), GOCO
Member of the

European GOCE Gravity Consortium

(EGG-C)
Member of the scientific committee "ESA Living Planet Symposium 2016"
Member of the IGG Institutsvorstand, Member of the Studienkommision Geodäsie und Geoinformation (occasionally)
Data sets
List of Published Data Sets
2019
J. M. Brockmann, T. Schubert, T. {Mayer-Gürr}, and W. Schuh, The Earth's Gravity Field as Seen by the GOCE Satellite – an Improved Sixth Release Derived with the Time-Wise Approach (GO_CONS_GCF_2_TIM_R6)GFZ Data Services, 2019. doi:10.5880/icgem.2019.003
[BibTeX] [Download PDF]

@misc{brockmann.etal_2019a,
title = {The {{Earth}}'s Gravity Field as Seen by the {{GOCE}} Satellite - an Improved Sixth Release Derived with the Time-Wise Approach ({{GO}}\_{{CONS}}\_{{GCF}}\_2\_{{TIM}}\_{{R6}})},
author = {Brockmann, Jan Martin and Schubert, Till and {Mayer-G{\"u}rr}, Torsten and Schuh, Wolf-Dieter},
year = {2019},
publisher = {{GFZ Data Services}},
doi = {10.5880/icgem.2019.003},
url = {http://dataservices.gfz-potsdam.de/icgem/showshort.php?id=escidoc:4315891},
urldate = {2019-08-12},
collaborator = {Ince, Elmas Sinem and Rei{\ss}land, Sven},
copyright = {CC BY 4.0},
langid = {english},
keywords = {EARTH SCIENCE \> SOLID EARTH \> GEODETICS \> GEOID CHARACTERISTICS,EARTH SCIENCE \> SOLID EARTH \> GRAVITY/GRAVITATIONAL FIELD \> GRAVITY,global gravitational model,GOCE,ICGEM}
}

A. Kvas, T. {Mayer-Gürr}, S. Krauss, J. M. Brockmann, T. Schubert, W. Schuh, R. Pail, T. Gruber, A. Jäggi, and U. Meyer, The Satellite-Only Gravity Field Model GOCO06sGFZ Data Services, 2019. doi:10.5880/icgem.2019.002
[BibTeX] [Download PDF]

@misc{kvas.etal_2019,
title = {The Satellite-Only Gravity Field Model {{GOCO06s}}},
author = {Kvas, Andreas and {Mayer-G{\"u}rr}, Torsten and Krauss, Sandro and Brockmann, Jan Martin and Schubert, Till and Schuh, Wolf-Dieter and Pail, Roland and Gruber, Thomas and J{\"a}ggi, Adrian and Meyer, Ulrich},
year = {2019},
publisher = {{GFZ Data Services}},
doi = {10.5880/icgem.2019.002},
url = {http://dataservices.gfz-potsdam.de/icgem/showshort.php?id=escidoc:4081892},
urldate = {2019-08-12},
collaborator = {Ince, Elmas Sinem and Rei{\ss}land, Sven and Technical University Of Munich, Institute Of Astronomical and University Of Bonn, Institute Of Geodesy and Graz University Of Technology, Institute Of Geodesy and Austrian Academy Of Sciences, Space Research Institute and University Of Bern, Astronomical Institute},
copyright = {CC BY 4.0},
langid = {english},
keywords = {EARTH SCIENCE \> SOLID EARTH \> GEODETICS \> GEOID CHARACTERISTICS,EARTH SCIENCE \> SOLID EARTH \> GRAVITY/GRAVITATIONAL FIELD \> GRAVITATIONAL FIELD,global gravitational model,GOCE,GOCO,GRACE,ICGEM}
}

P. Zingerle, J. M. Brockmann, R. Pail, T. Gruber, and M. Willberg, The Polar Extended Gravity Field Model TIM_R6eGFZ Data Services, 2019. doi:10.5880/ICGEM.2019.005
[BibTeX] [Download PDF]

@misc{zingerle.etal_2019,
title = {The Polar Extended Gravity Field Model {{TIM}}\_{{R6e}}},
author = {Zingerle, Philipp and Brockmann, Jan Martin and Pail, Roland and Gruber, Thomas and Willberg, Martin},
year = {2019},
publisher = {{GFZ Data Services}},
doi = {10.5880/ICGEM.2019.005},
url = {http://dataservices.gfz-potsdam.de/icgem/showshort.php?id=escidoc:4365907},
urldate = {2020-01-07},
collaborator = {Ince, Elmas Sinem and Rei{\ss}land, Sven},
copyright = {CC BY 4.0},
langid = {english},
keywords = {EARTH SCIENCE \> SOLID EARTH \> GEODETICS \> GEOID CHARACTERISTICS,EARTH SCIENCE \> SOLID EARTH \> GRAVITY/GRAVITATIONAL FIELD \> GRAVITY,geodesy,global gravitational model,GOCE,ICGEM,PolarGap}
}
2016
R. Pail, T. Gruber, T. Fecher, and G. P. Team, The Combined Gravity Model GOCO05cGFZ Data Services, 2016. doi:10.5880/icgem.2016.003
[BibTeX] [Download PDF]

@misc{pail.etal_2016,
title = {The {{Combined Gravity Model GOCO05c}}},
author = {Pail, Roland and Gruber, Thomas and Fecher, Thomas and GOCO Project Team},
year = {2016},
publisher = {{GFZ Data Services}},
doi = {10.5880/icgem.2016.003},
url = {http://dataservices.gfz-potsdam.de/icgem/showshort.php?id=escidoc:1504398},
urldate = {2019-07-01},
collaborator = {Pail, Roland and Pail, Roland and Gruber, Thomas and Baur, Oliver and Becker, Silvia and Brockmann, Jan-Martin and Eicker, Annette and Hausleitner, Walter and H{\"o}ck, Eduard and J{\"a}ggi, Adrian and Krasbutter, Ina and Krauss, Sandro and Kusche, J{\"u}rgen and Maier, Andrea and {Mayer-G{\"u}rr}, Thorsten and Meyer, Ulrich and Prange, Lars and Rexer, Moritz and Rieser, Daniel and Schall, Judith and Schuh, Wolf-Dieter and Zehentner, Norbert and TU Muenchen, Institute Of Astronomical and Univ. Bonn, Institute Of Geodesy and Univ. Bonn, Institute Of Geodesy and TU Graz, Institute Of Theoretical and Austrian Academy Of Sciences, Space Research Institute},
copyright = {CC BY 4.0},
langid = {english},
keywords = {Geodesy,global gravitational model,GOCE,GOCO,ICGEM}
}
Paper and Presentations
List of Publications
2023
2022
2021
2020
2018
2017
2016
2015
2014
2012
2011
2010
2009
2008
List of Presentations
2023
2022
2021
2019
2018
2017
2016
2015
2014
2013
2012
2011
2010
2009
2008
List of Posters
2022
2019
2016
2015
2014
2013
2012
2011
2010
2009
2008