Ph.D. Student
Contact:
Email: koehler@geod.uni-bonn.de
Tel: +49 – 228 – 73 – 3578
Fax: +49 – 228 – 73 – 6486
Office: Nussallee 17, 2. OG, room 2.009
Address:
University of Bonn
Theoretical Geodesy, IGG
Nussallee 17
53115 Bonn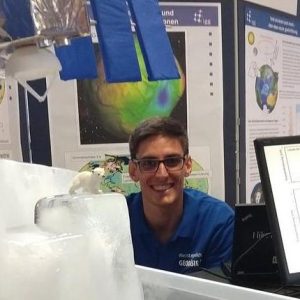 Links
Current teaching (Basis)
Download CV
Research interests
Geostatistics and stochastic processes
Differential radar interferometry (DInSAR)
Computational geodesy
Short CV
Joël Köhler trained as a surveyor before taking up his studies in "Geodäsie und Geoinformation" at the University of Bonn in 2010. He started to work in the Theoretical Geodesy group as a student assistant in 2012. After the finalization of the bachelor degree and the master degree course he received the degree B.Sc. in 2013 and the degree M.Sc in 2015, respectively. He wrote both his bachelor and his master thesis in the Theoretical Geodesy group.
Following this, he started as a PhD student in the same group. Currently he is working on methods for spatio-temporal signal separation using techniques from the field of geostatistics and stochastic processes.
One possible application for such methods is the differential radar interferometry in order to extract continuous deformation time series while separating e.g. atmospheric deviation from the observation.
Teaching activities
Practicals "Geostatistik", since WS2015/2016
Practicals "Parameterschätzung und Hypothesentests", since SS2016
Lecture and Practicals "Advanced Data Analysis", since SS2018
Supervision of different B.Sc, theses, since 2016

Backs, K. L. "Raum-zeitliche Signaltrennung in einem Bildstapel". B.Sc. Thesis, University of Bonn, 2016
Awards
2016: Second winner of the "VDI-Förderpreis" of the "VDI – Bezirksverein Köln e.V." for his master thesis
2013-2015: Holder of a "Deutschlandstipendium" during his master degree course
2013: Winner of the "DVW-Turbo Preis" for fast an good studies
Paper and Presentations